WELCOME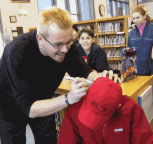 Clive Gifford is a highly experienced journalist and author with over 100 books published and more than 800 features and stories written for adults and children.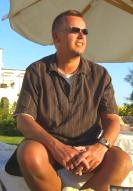 Clive is an unusual author who likes to work in both fiction and non-fiction. Perhaps this reflects his unusual life which, so far, has seen him travel to over 70 countries, be held hostage in Colombia, go parachuting, coach several sports and run a computer games company.
"Welcome to the pages dealing with my work as a writer. What drives me more than anything else is the desire to communicate, entertain and inform through the written word. I hope you find these webpages of interest."
Clive Gifford.
STOP PRESS
Discover The Extreme World on the shortlist for the 2012 Blue Peter Book Award.
So You Think You Know The Olympics - 1000+ questions on the games - out now.
Sir Ranulph Fiennes endorses Clive's Ten Explorers book as "An inspiration to all adventurers!"
Teenage Kicks reviewed as "a barmy, brilliant and hilarious odyssey of a book". See Teenage Kicks for more details.
Ten People Who Changed The World four book series just published. See Latest Work for details.
So You Think You Know The Simpsons is selected for School Library Association's Books Into Boys scheme.
Outstanding Olympics (OUP) - receives rave review.
Clive's Kingfisher Geography Encyclopedia translated into six volume Braille set for the US National Library Service.
World Issues: Refugees nominated for the British Book Awards.
WHAT THEY SAY
"I really appreciate authors, like Clive, who are accurate, informative, write entertaining text and deliver on time. Clive is a delight to work with, and we always know that there will be something a little bit special about his copy."
Gill Denton, Publisher, Oxford University Press (OUP)
"Gifford's enticing visions will engage the imaginations of young dreamers."
American Library Association
"I have worked with Clive for many years and it is always a pleasure. A terrific writer with great ideas, he always excites, informs and entertains."
Anne Clark, Editor-In-Chief, Piccadilly Press
---
Website by Red Ink Creative: London Web Design