NEWS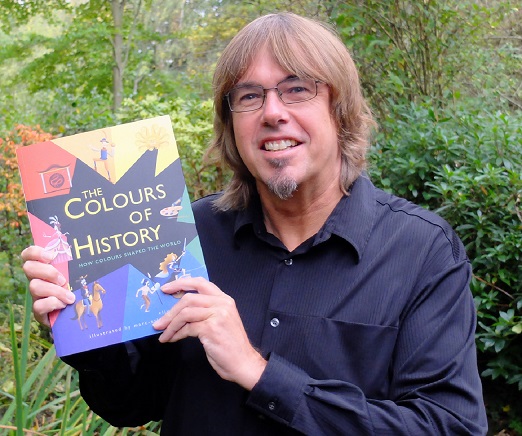 Clive's excited at the news that his The Colours of History (QED Publishing) has been longlisted for the Blue Peter Book Awards. It's a look at how colours have been discovered, traded and fought over throughout history and how they have inspired artists, designers, movements and empires for thousands of years.
---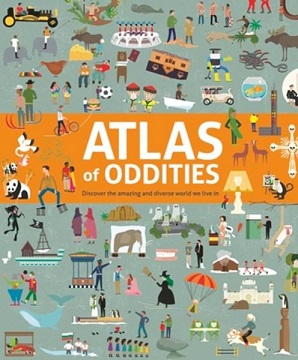 Clive is delighted to report that The Atlas of Oddities, published by Red Shed, has been shortlisted for the prestigious Children's Travel Book Of The Year to be announced later in 2017.
---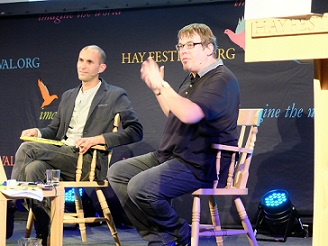 Clive LIVE At The Hay Festival

Clive made his debut at the Hay Festival in 2015 detailing some of the science behind optical illusions and how your eyes and brain work and can be tricked. In a packed-out Oxfam Moot venue attended by some 600, Clive was interviewed by Martin Chilton, Culture Editor of The Daily Telegraph and was accompanied by leading neuroscientist, Dr Anil Seth.

Clive says: "Appearing at Hay was an enormous honour. The audience were terrific and really got into the spirit of investigation as we demonstrated and discussed a wide range of illusions."
---
Eye Benders wins the Royal Society Young People's Book Prize.

Clive had a great day out at Newcastle's wonderful Centre For Life, helping out with science workshops in the morning and then attending the Royal Society awards ceremony where he literally fell off his seat (see below) when the winner was announced. He's pictured with the award and Professor James Hough FRS, chair of the judges panel who rated Eye Benders as, "an enthralling book which captivates children (and adults) from primary school age upwards. Everyone reacts to the illusions in a different way and this plays a strong part in why the book is so popular!"

See news coverage of the award at the following links:
The Guardian

The Centre For Life

'A Window On The World' - Clive's Royal Society article on the vital importance of children's science books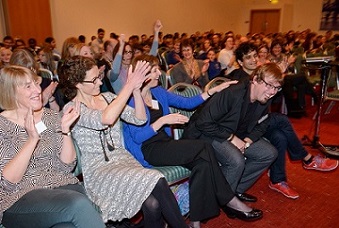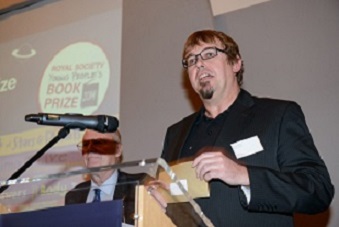 ---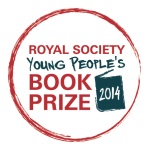 The 2014 Royal Society Young People's Book Prize.

Eye Benders – Clive's guide to optical illusions and how they work – has made it onto the shortlist for the truly awesome Royal Society Young People's Book Prize to be announced on November 17th, 2014. The book contains some 80 great optical illusions from stereograms to perspective illusions with details of how they work, explaining aspects of your eyes, brains and perception.

"Warning: this book will try to trick you! It is full of optical illusions you can try for yourself, and we love how interactive this is. What this book does really well is explain each trick of the eye through the science behind it. Both fascinating and fun." – The Royal Society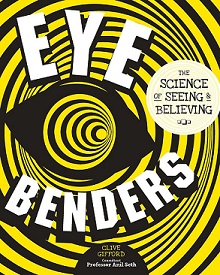 Read the Royal Society's interview with Clive about Eye Benders at The Young People's Book Prize

Read another interview with Clive and consultant, Dr Anil Seth, at the Science Book A Day website

Learn more and download some scintillating sample pages from Eye Benders at The Science of Seeing & Believing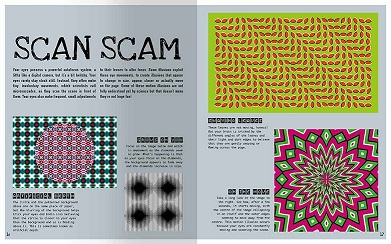 ---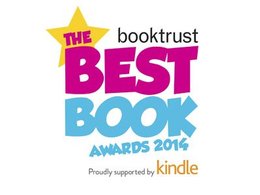 The Book Trust Best Book Awards 2014

Clive's delighted to learn that Space In 30 Seconds, published by Ivy Press, is on a four book shortlist for the highly-prized Best Book 2014 Awards Best Fact Book.

An all-star judging panel including Mel Giedroyc and Blue Peter's Helen Skelton will decide with the results announced at the Best Books Bash in London on 2nd July. Clive's very excited!

Click on Best Fact Book to learn more, read Clive's interview or check out Space In 30 Seconds here.
---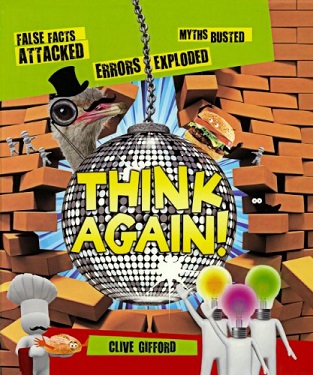 Think Again!, which aims to crack wide open many myths and errors pretending to be solid facts, has been published by Macmillan and has already received some rave reviews including a five star review from Abraham Ray at Goodreads and online reviews including:

"Real revelations lie inside this utterly superb book. Truly eye-popping information and illustrations fill the book where Gifford's breezy, well-informed text lifts the lids on the lies and myths we've been quoting as facts for years and years." – Dr Allen G. Jones, Science Teacher and Deputy Head [school omitted]

Gee thanks, Teach!

Think Again! is available at Amazon.com, Amazon.co.uk and many other leading booksellers.
---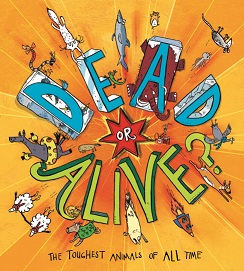 Dead Or Alive – Clive's hilarious guide to animals on the edge is almost complete and will be out this Summer, published by he fabulous people at Red Shed. Best of all, the book is illustrated by the outrageously-talented Sarah Horne Sarah's Wacky Website.

Sarah's personality-packed images compliment the unbelievable but true stories of animal antics, bird behaviour, fishy goings on and ingenious insects all battling to survive. Learn more about this barmy book on Clive's Latest Work page soon.

---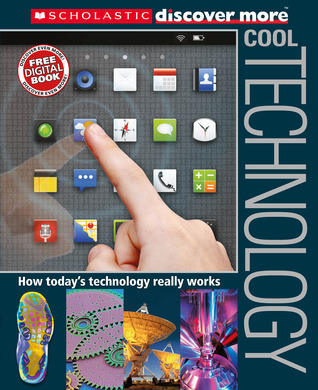 Clive Wins SLA Award!
Clive was hiking round Bassenthwaite Lake in the Lake District when his phone rang with the delightful news that his book on science and gadgetry, Cool Technology won the School Library Association Information Book Award 2013 in the 12-16 age category.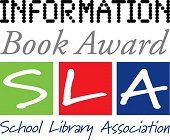 The judges called it, "A very readable title that transcends tech-geekery and grabs the reader's interest." The SLA does an awful lot of valuable work in promoting books and literacy and Clive is very proud that one of his books has received such recognition.
---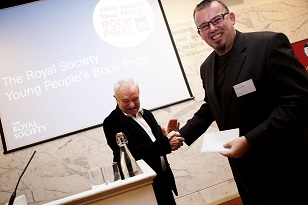 When Clive's book, Out Of This World, was shortlisted for The Royal Society Young People's Book Prize, Clive went to the Royal Society where he got to talk with Sir Paul Nurse, head of the Royal Society and a Nobel Prize winner for his astonishing work in genetics. Clive received his award from Sir Paul (left) a little later and couldn't resist telling him a short joke on the podium.
---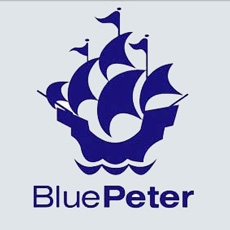 Discover The Extreme World is on the four book shortlist for the prestigious 2012 Blue Peter Book Award. The winner is to be announced on TV from the new BBC studios in Salford, a short tram trip from Clive's house, on Thursday, 1st March, 2012. See Blue Peter Award 2012 for more details.
---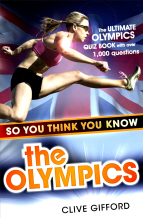 So You Think You Know The Olympics is published by Hodder Children's Books in time for Christmas and before the Olympic Games return to London the following summer. In its packed pages are over 1,000 quiz questions on all aspects of the games from ancient Olympic champion to the latest contenders for gold. See The Olympics for more details coming soon.
---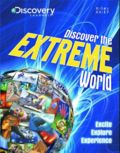 Discover The Extreme World is published by Miles Kelly. Clive wrote the pages on the most extreme machines on the planet and beyond for this collaborative title which is being published in conjunction with the Discovery Channel
---

Clive's been helping out with a new Radio 4 Women's Hour programme on the female characters of the Simpsons to be broadcast at the end of 2009. Clive's Simpsons quiz book has received multiple five star reviews and is reprinting for the fifth time.
---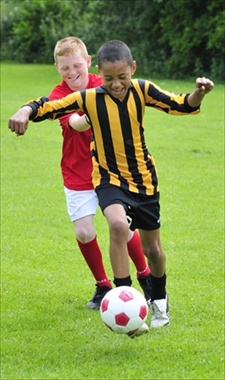 Clive's recently completed a major sequence of photoshoots for the Get Sporty series of books aimed at young children to be published by Wayland in 2010. Using Nikon DSLRs and lenses exclusively, Clive's imagery seeks to capture children at their most natural and engaging.

---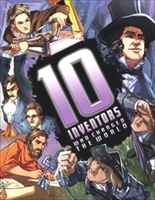 The latest in the Ten People Who Changed The World series is to be published shortly. Ten pioneers whose inventions or discoveries made a significant impact on our world have their life stories told in fast-paced text and exciting manga-styled illustration. Those covered include Archimedes, Marie Curie, Nikola Tesla, James Watt and Sergei Korolev.
---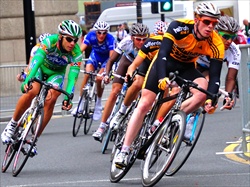 Clive had hoped to ride several stages used for the Tour of Britain but a hamstring tear put paid to that. However, he did catch up with the Tour through Newcastle with one camera to hand.
---

Reg the Cat's image is now for sale at David and Sarah Cousen's briliant Coolsurface website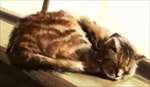 You can also view a bigger picture at Reg's own pages and read his reaction to becoming something of a minor celebrity.
---

Clive was excited to learn that he has been invited back to Greece to give a series of talks on the Olympic Games - ancient and modern. He hopes to make a second journey around Olympia and its wonderful remains.
---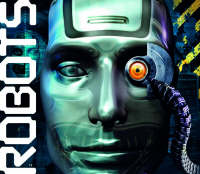 Robots has been published by Carlton Books. It's an atmospheric and arresting guide to the world of robotics today as well as in the near future with pull-outs, pop-ups, lift-up flaps, a robot construction manual and lots of other exciting features.
---

The School Library Association in conjunction with the Department of Education and Skills has produced the Boys Into Books scheme. It features a selected list of

recommended titles sent into many schools to help support boys' reading at KS3.
Nestling between Neil Gaiman and Terry Pratchett is none other than
So You Think You Know The Simpsons
. Yes, Clive was surprised as well.

The SLA describes the bestselling title as, "Not the book to buy for a quiet library but perfect for sparking interest in reading." Click on
SLA Boys Into Books
to learn more.
---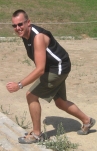 Clive recently made his first trip to Olympia, the site of the original Ancient Greek Olympic games. Research for future Olympic books was on his mind but he couldn't resist running a stade - the length of the stadium - just like the first known athletes in 776BCE.
---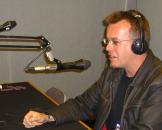 Clive's been all over the airwaves recently on a variety of national and local stations. He's been talking sports, particularly about the Olympics, football and how sport and literacy schemes can work together.
---

Give Clive's new car (a Nissan Figaro) a name and win a copy of the excellent fact-packed Kingfisher Motorsports Encyclopedia. See the Motorsports pages for more details.
---

It's back and bigger than ever with hundreds of extra questions about the recent Dr Who series starring David Tennant and Christopher Eccleston. Know your Ood from your Isolus or Nestene Consciousness? So You Think You Know Dr Who (2nd edition) will provide a stiff challange quicker than you can say, "Torchwood".
---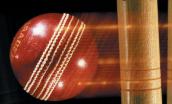 Clive was in Australia over the winter where he was a guest of Cricket Australia at the Ashes tests. He enjoyed the occasion if not the results and his 1500-question bumper Test Match cricket quiz book will be out shortly published by Hodder.
---

Clive writes: "I'd just like to say sorry to the many readers and teachers who wrote to or emailed me in December and January. I was away from home in Singapore and Australia during that time. By now, you should all have received replies. Once again, my apologies for the delay."
---

Clive took to the air in August flying a glider from Eaglescott Airfield in North Devon, nabbing some thermals to extend the flight to 25 minutes and then performing a bumpy if safe landing.
---

To celebrate the news that Clive's Test Match quiz book is going to be updated to feature the forthcoming Ashes series, Clive's off to the Old Trafford Test Match. Can England who nearly beat Australia here last year do better against Pakistan?
---

Clive has square eyes after watching and re-watching all 20 official James Bond movies to complete the 1,050 questions that will go into the So You Think You Know James Bond? quiz book.
---

Clive's encyclopedia of motorsports book is now at the printers due to be published on October 16th 2006. Clive recently went Quad Bike racing in Cheshire. He enjoyed it enormously, even though he limped in hours after the winner in 11th place.
---

Hear Clive give his amazing and amusing World Cup Fantasy XI on BBC Radio 7's Big Toe Radio Show. Which World Cup winner only had one hand? Who played in a World Cup qualifying game aged 13? Tune in to find out.
---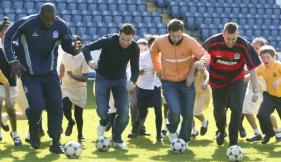 Clive launches The Kingfisher Football Encyclopedia at Loftus Road, home of QPR. Forget swimming with dolphins or climbing Everest, Clive fulfilled a life-long dream, banging the ball into the net at Loftus Road. The launch featured training and skills drills and a five-a-side game for a great group of local schoolchildren and Rangers players, Dan Shittu, Kevin Gallen and Marc Bircham.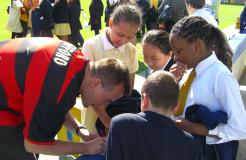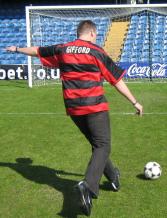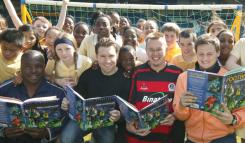 ---

So You Think You Know The World Cup (Hodder) is published to coincide with football's greatest competition. Find sample questions from the book in the Quiz Whizz section of the site or order from Amazon.co.uk.
---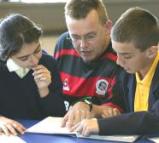 Clive gives a talk and worksheet quiz for local White City schoolchildren at QPR's Study Support Centre. The centre works with students from the local West London community to improve literacy and numeracy. Four students won copies of Clive's books as well as prizes kindly donated by QPR.
---

Clive makes an appearance at the London Book Fair where he talks about children, teenagers and sport and the demands of producing quality sports books. Here he is, pictured with Kingfisher managing editor, Russell Mclean holding dummy copies of his forthcoming Motorsports Encyclopedia.
---

Clive's new car is on its way over from Japan. Here it is parked at the loading bay in Yokohama. It's a retro-styled 15 year old Nissan Figaro. Okay, okay, so it's not quite a Ferrari but it will turn heads as it pootles along at 30, sometimes, even 40mph.
---

Michael Schumacher jumps for joy at the news that there will be a dedicated motor racing section on this site very soon. Containing revved-up weblinks, insider's guide to racing technology and tactics and fast facts it will be here well before the Autumn 2006 launch of The Kingfisher Motorsports Encyclopedia.
---

The Concise Geography Encyclopedia (Kingfisher) is out shortly with 320 pages packed with data, maps, images and profiles on the world's countries and continents.
---
Reflecting on the finest Ashes series in living memory? Want to be bowled over by the ultimate test cricket trivia guide?

So You Think You Know Test Cricket? (Hodder Children's Books) is packed with over 1,000 questions on the great matches, venues and stars of the game from Warne to Vaughan and from Grace, W.G. to Dennis Lillee. Now on sale at good bookshops and online at Amazon.
---

Clive Live @ the ASE Clive was asked to speak at the Jan 2006 Annual Conference of the Association for Science Education, the largest organisation in the UK dedicated to improving understanding of science.
---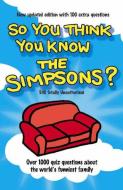 So You Think You Know The Simpsons is now out in a second edition with 100 extra questions covering the latest seasons. Its receiving rave reviews.

"If your children, like mine, are Simpsons nerds, treat them to this book. With more than 1,000 graded quiz questions on Bart, family and friends to occupy their minds, they'll be happy and you'll be rewarded in heaven." -
The Daily Telegraph
---

Diary of A Kickboxing Freak published by Heinemann went on sale in August. Taking the reader through the life of a promising junior kickboxer, the book reveals the key moves and training tips required to succeed.
---

Clive was asked to speak recently at Oxford University Press's annual sales conference. The topic was why football captivates so many millions of people of all ages.
---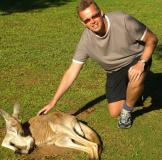 Clive has recently got back from Australia where apart from visiting family out there he gave several informal talks to teachers and children.
---